Here's a game that I really didn't play a whole lot in the arcade when I was a kid. I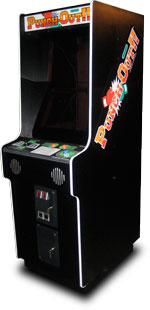 remember trying it a few times, but man, was it hard! In my quest to collect all things Ninty, this cabinet was high on my list. My AWESOME local collector friends, Wickedbass and Dewman, hooked me up with this cabinet and I am completely grateful. I LOVE IT!
This is probably my biggest restore to date. It required an insane amount of work. When I got it, it was mouse infested. It smelled. It was a disaster. I must have at least 40 hrs. of time or more invested in restoring this cabinet. It was a lot of work! Check out the photos. It was crazy!
Now that it's all restored, I am one happy camper. This is one of the cooler Nintendo cabinets. Dual monitors, synthesized speech, a crazy knock-out button, and more. This game has a lot going for it. I still suck at it, but am getting better.
Anyways, check out the video and the photos. If you are a Ninty fan, this is one to own!
Nintendo Punch-Out!! Arcade Restore with freeplay mod video:
Nintendo Punch-Out!! Restore Photo Album with freeplay: