I love Ms. Pac-Man. LOVE IT. This is easily in my top-five games of all time. It is so much better than regular Pac-Man and is beyond challenging. There is no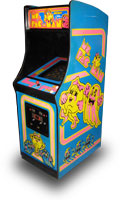 question, this is a classic.
This is actually a very common machine but it is very hard to find one with good side-art. These machines originally had screen-printed artwork on the sides and the front of the cabinet. It is very typical to find these with faded artwork, hand-wear, etc. I looked for a long-time for a perfect one and this was the best I could find. It's not perfect, but it's not bad. It's a very solid cabinet with minimal fading and hand-wear. I could have done worse.
I replaced the stock Wells Gardner monitor with a new Wells Gardner D7700. This is a fantastic monitor and I would recommend it to anyone. It also has a remote board with on-screen adjustment controls. A very nice feature!
I also added a 60-in-1 JAMMA board to this cabinet. The JAMMA board adds about 60 classic games including ALL of the Pac-Man games, Galaga, Burgertime, the Donkey Kongs and a bunch of other essential titles. This is a very worthwhile mod and it really adds amazing amounts of playibility to the cabinet. I used the Lizard Lick Pac to JAMMA adapter and it was very plug and play. A very easy mod and totally worth it! This cabinet gets a ton of play in my home.
Update: 3-25-09
I decided to remove the 60-in-1 from my Ms. Pac and install MAME with the MALA front-end. See links below to see how I did it. Also, check out the videos.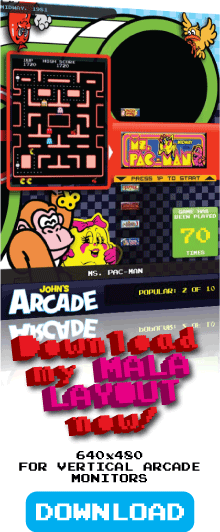 My current Ms. Pac-Man high score:

55,400 (I suck at this game!)

Video of my new custom MALA layout:
Video of Ms. Pac with MAME and the MALA Front End:
Video of Ms. Pac-Man with 60 in 1 JAMMA board in action:
Video of Ms. Pac-Man with new control panel and WG D7700 monitor (how to wire using the Lizard Lick adapter):
Photos of my Ms. Pac-Man w/ 60 in 1 JAMMA (click for gallery):