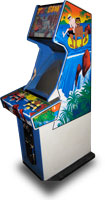 I am not sure what to say about this game! I bought this on a whim. I was going to New Hampshire to look at a puppy and this game showed up on Craig's List for cheap in the same area. It was meant to be!
This is a very fun game. It features two player simultaneous play and a medium resolution monitor. Graphics are good and it has a killer marquee. The marquee has a waterfall effect like those old 70s beer signs. It's definitely cool!
The cabinet needs some work but everything works perfect. I plan on advancing my wood working skills with this one. The cabinet needs some work.
I filmed a video of my cabinet in its current state. Check it out and let me know what you think!
My current Toobin' High Score:

???,???