I have a love hate relationship with Donkey Kong Junior. For the most part, I love it. But at times I really hate it. The game is very challenging and can be incredibily frustrating.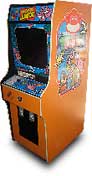 I consider myself a pretty good Donkey Kong player but Junior is so much harder IMO. Maybe it's mental, or maybe I just plain suck. Either way, this is a Nintendo classic and every Ninty freak needs this in their collection.
I picked this one up on Craig's List on the cheap. The cabinet is a pretty solid plywood cab. The control panel needed some love (cigarette burns, faded art, etc.) and it was missing a few random parts like the coin door locks. I included links to the places I acquired all the parts below.
Anyways, it's all fixed up now and this is an awesome addition to my collection. There is no denying it, this is a good looking game!
I plan on adding the high-score save kit which will also enable free play. These kits are a must have for these Nintendo cabs!
So, now that I have this, looks like I now need a Donkey Kong 3 which will complete my DK trifecta! :)
My current DK Jr. high score:

66,400

Video of my Donkey Kong Junior before the restore:
Photos of my Donkey Kong Junior Restore: