I have a love/hate relationship with arcade cocktail cabinets. I love the idea of them. A small low-profile cabinet, that can blend in with itssurroundings. A very discreet cabinet perfect for space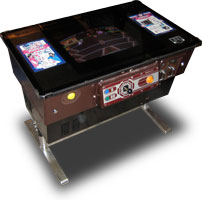 starved collectors. It's also a great social way to play games. You can't beat playing a game with a friend sitting across from you and with beers on the table. Good times!
However, it's not the best gaming experience. Odd viewing angles, odd controller angles, etc. Uprights are so much better. But, a collection is not complete without a cocktail cabinet. And, well, this is a pretty good one to have. Especially if you are a Nintendo nut like me.
Popeye is a pretty solid game. Not Nintendo's best game but definitely one worth owning. It's a very challenging game that requires quick reflexes and a sharp mind. It's a good time and I don't regret the purchase.
My cocktail is in pretty great shape and it's probably one of the only machines that I didn't replace anything on. It's all original and it works great. The monitor is strong and the original under-the-glass artwork inserts are crisp and nice. The only thing I wouldn't mine changing is the tempered glass table-top as it is pretty scratched up. However, that's not cheap so I'll probably just live with it. It's not that bad.
My current Popeye high score:

45,000

Video of my Popeye Arcade Cabinet in action:
Photos of my Popeye Arcade Cabinet (click for gallery):